ACE Program
ACE is a program that examines and rewards knowledge in manufacturing, personalization and advanced technologies. In-person training classes are available. Exams measure your knowledge. Learn more about the ACE program levels and topics covered.
ACE Levels
Currently ICMA offers three designations, ACE-M, ACE-P and ACE-A. Each designation is developed as a stand-alone program and does not build upon, nor require, the other designation as a precedent. Consequently, the card professional can build upon their ACE-M with the ACE-P as well as the ACE-A or alternatively, for those that specialize in personalization and fulfillment segments of the industry, can seek ACE-P separately.
ACE-M
The ACE-M designation evaluates the skills and knowledge of card manufacturing professionals and is comprised of eight key sections: PVC/Plastics, Inks, Adhesives, Printing, Collation, Lamination, Die-cutting and Standards/Testing.
ACE-P
The ACE-P designation evaluates the skills and knowledge of card personalization and fulfillment professionals in eight major categories: Printing and Barcodes, Magnetic Stripe Encoding, Embossing, Laser Engraving, Smart Card Encoding, Financial Transaction Card Data, Fulfillment, Standards/Testing.
ACE-A
The ACE-A designation evaluates the skills and knowledge of advanced card technologies in advanced materials and card construction, card technologies, security technologies, and environmental initiatives.
Private Group Training/Exams
Companies may also elect to host a private training and exam at your location with a minimum of 10 participants. Contact ICMA for details.
Click here for more information, dates for training and exams and to apply. Or contact ICMA Headquarters for more information.
RECENT WEBINARS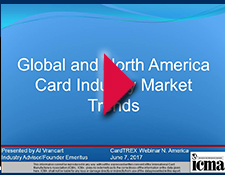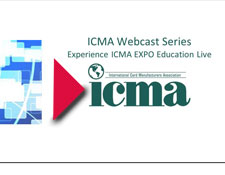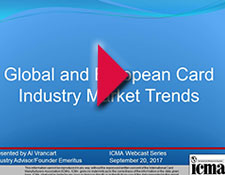 Working for an ICMA member company enables you access to a variety of online training resources. In order to gain access to the materials on this page click on the Register Today button at the top of the page. Not A Member?
Click here
to join ICMA! An ICMA staff member will review your request to ensure you are employed with a
member company
. Once approved, you will receive an email to gain access to the training resources.
international card manufacturers association training portal